I thought it would be a good idea to have threads that help the whole community (because it felt good to help people with their designs). You can see they're helpful threads because they start with TIPS (using HELP could be confusing if a thread says "HELP, need yesterday's shirt").
I'm going to provide links to software that I use. This software is 100% free, because it's open-source. That means it's made by people just for the love of software development.
GIMP (works like Photoshop). Download it here.
GIMP is available for Windows, Mac OS X, and Linux. It lets you tweak photos, or create artwork from scratch. I'm currently using it to design a shirt (I drew it on paper, scanned it in, and now I'm adding the special effects).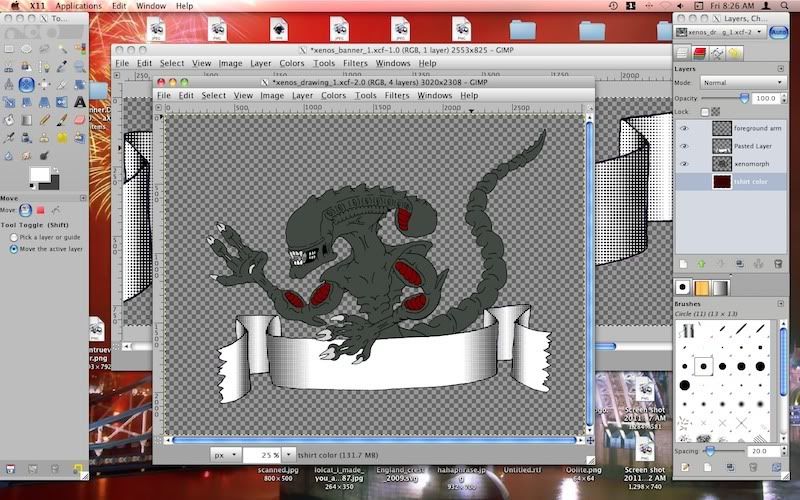 There is a huge library of help online with this software, both as instruction lists and as video tutorials. If you're good at drawing or painting and you have a scanner, this can get your artwork into the computer and tweaked to perfection.
Inkscape (vector art program that works like Illustrator). Download it here.
Vector art is what computers are best at. Unlike the image on a TV screen, made of individual dots that begin to look like individual dots when you zoom in, vector art is held in the computer as mathematical points. This means that visually complicated shapes can be created using simple repeating commands...
...and your existing bitmap graphics (in JPEG or GIF or PNG format) can be imported in a limited color palette, essential for TeeFury with its six-color limit. You can tweak hand-drawn curves to be smoother. You can stretch a circle into an oval without the lines becoming jagged. You can create a Spirograph background just by tweaking a few settings on a star emblem. And you can export your vector artwork as a JPEG or PNG image at any time to display it on the web.
---------------
Any other suggestions for great (100% free) software or tools, people?